Growing up, while I was in primary school till maybe junior secondary school, I was the type of girl who had everything in her school bag. And when I say everything, I mean everything a junior student could possibly need. I loved taking all these things with me because that meant I didn't have to ask anyone and so it made me feel somewhat important as other people would also come to me for these things.
Now, as an adult, my everyday bag essentials have changed significantly. This is because, my priorities are different and some things I didn't care about before now matter to me. However, the constant thing in my past and present everyday bag essentials is how packing the right stuff has saved me from stress, embarrassment and unnecessary conversations (being an introvert). 
In this blog post, I'll be sharing my everyday bag essentials. That is, what you'd typically find in my bag on a regular day. Keep reading!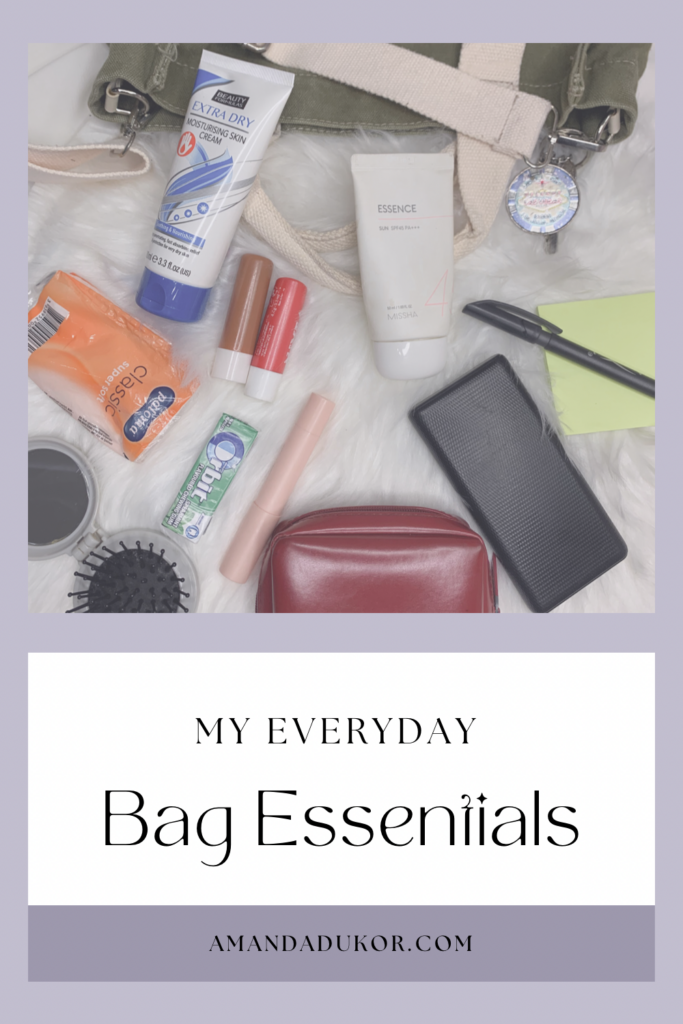 My Everyday Bag Essentials
Wallet
I think it's general knowledge that no matter where you're going, you'll always need your wallet. And this is me speaking from experience. On the very few occasions when I decide to leave my wallet/purse, something comes up and I either need a random receipt I kept in it or even my bank card. Also, the smaller, the better. That way you can easily fit it into whatever bag you're going out with and give room for other important stuff.
Powerbank
If you're like me and you do important work on your phone, then you probably need to have a power bank in. And even if you don't actually work on your phone, it's always nice to have something to charge your device with because there's always a reason to use your phone. From social media to that WhatsApp group you're a part of to music, all these collectively draining your battery. So yeah, power banks are everyday bag essentials, at least for the sake of communication.
Pocket tissue
There are so many reasons why you should always have a pocket tissue with you; from bathroom emergencies to getting rid of random stains to wiping your mouth after lunch. It honestly just makes a lot sense to have it handy to avoid embarrassment.
Compact Mirror & Brush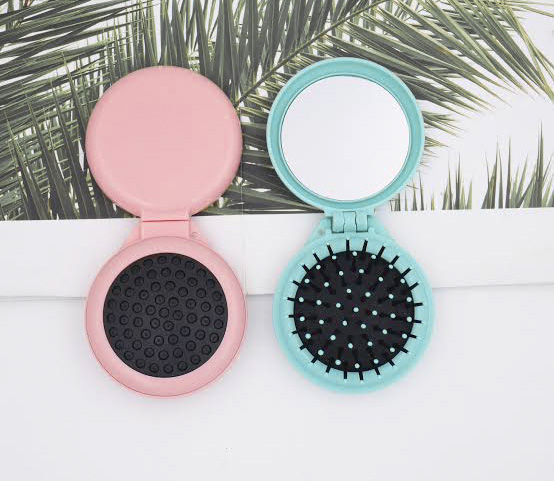 I got a compact mirror and brush some years back from my mom and ever since it's been one of my solid everyday bag essentials. It comes in very handy when you want to check your face real quick or reapply your lip gloss or straighten out your weave. It's also small and portable making it really easy to carry around. 
Earphones
As someone who doesn't do well with small talk, going out without earphones is simply torture. In the bus, cab, office, school, while shopping, you'll find me plugged in because I'd honestly rather listen to music (as long as it's safe). I know that not everyone likes to listen to music, but if it's your thing, by all means take earphones, AirPods, ear buds or whatever you use with you. Also, if you're a student or even a worker, you'll agree with me that there are days when you just want to be by yourself, focus and be productive. On days like that, you can just plug in, listen to great music or even a podcast to boost workflow. Or maybe it's just me haha.
Lip balm
Another one of my everyday bag essentials is lip balm and/or gloss. Chapped lips can be painful and licking your dry lips does not help, neither is it attractive. It in fact does more harm than good (see why here). That being said, please moisturize your lips, men and women alike. Lip balms are super affordable, small, portable, and can be gotten easily from local supermarkets and stores. There's literally no excuse. 
I currently use three brands; nivea, vaseline and R&R luxury for my lips and they've been great so far
Sunscreen
Sunscreens are super important and I'm sure you probably use sunscreen everyday (I hope). However, a lot of people, including me still struggle with reapplying sunscreen during the day. This is particularly important if you spend most of your day outside. In that case, your sunscreen should be one of your everyday bag essentials. If you don't know about sunscreens and why they are important, read this.
By the way, I just got a new sunscreen from Biore, I'll be reviewing soon.
Perfume
If you're like me who lives in a place as hot as Lagos or you sweat easily, then you might want to take a perfume with you while stepping out to avoid smelling weird. I have this really cute perfume stick I got for a ₦1000 only (~$1.2). This or the very little perfume oils are great to carry around and use. Also, I recently started layering my scents with more intention and not just using random perfumes which has been helping my scents last longer! I'll probably talk more about that while sharing my body care routine.
Hand Sanitizer
The pandemic happened and sanitizers became a thing. But pandemic aside, there are many situations in the outside world especially where I'm from that will require you to wash your hands. Considering the fact that soap and water will not always be available, the next best thing to have is a sanitizer to kill 99.9% of germs.
Hand cream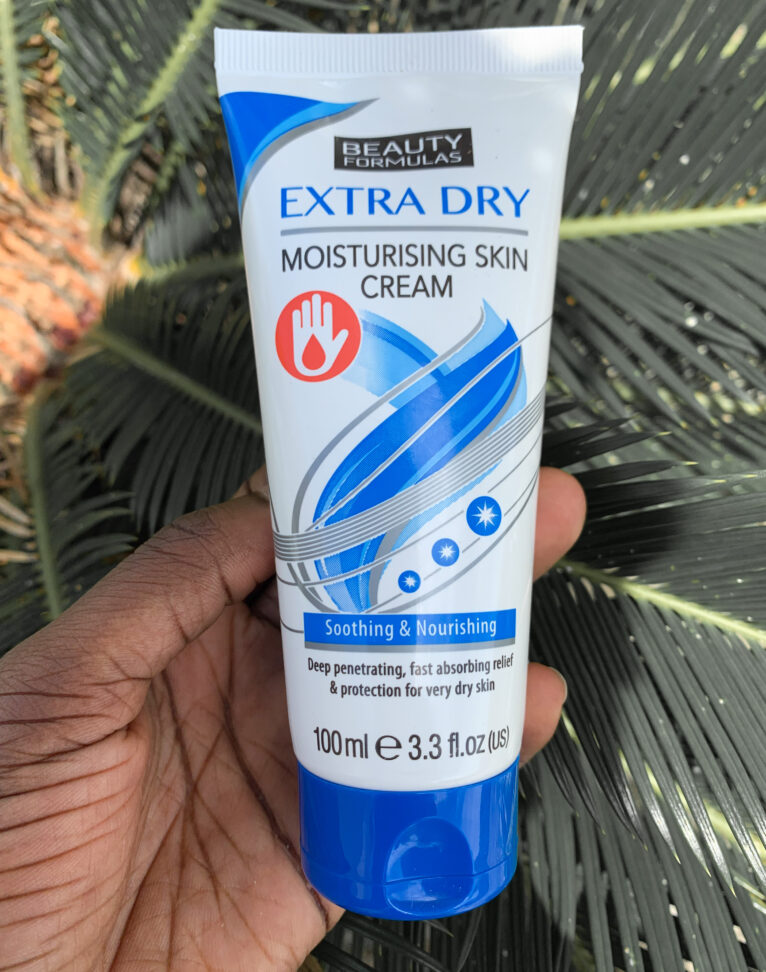 This is very personal to me because I have extremely dry skin on my hands and going out without a hand cream is almost always a bad idea. I mean, it's not nice to have your hands looking all flaky and ashy. So yeah, it's essential for me. And even if you're one of God's favourites with perfect hands, it's not bad to have something to make your hands look even more hydrated and moisturized.
I currently use the Beauty Formulas moisturizing cream for extra dry skin. If you're in Nigeria, you can get it for just ₦1200 at Paxo Health & Beauty.
Sanitary pad
I'm not gonna lie and say I take this out with me everyday. I mostly only take this out in the week I'm expecting or feeling like it. However, I still think it's good to always have this in your everyday bag as it can be of help to someone else around you who has a period accident. Periods can also come on days we do not expect. So it is advised that you always take a pad out with you.
Mint
Bad breath is real and  sometimes it's not even your fault😭. It could be because you've stayed a long time without food, could be because you've been mute for far too long or it might be an actual medical condition causing it. Also, you don't want anyone to know what you had for lunch by the smell of your breath. A small pack of mint sweets/gum would help you solve this problem.
Note/Pen
I'm always taking notes and writing things I have to remember so of course I take a small note pad with with me every single time. You never know when it can come in very handy in random situations. Plus I'm a student. I always need to write something down.
That's it for my everyday bag essentials! 
What's that one thing you always take with you while going out?