Hi, bestie! In this post, I will be sharing with you how I effectively take down my makeup using oil cleansing – a method that has proven to prevent post-makeup breakouts and reactions. More specifically, I will be sharing how I use coconut oil for oil cleansing & makeup removal and whether or not it is a great choice. But before we get into that, I'll be answering some very common questions a lot of people have about coconut oil and its use on the skin.
What is coconut oil?
Coconut oil is basically oil obtained from coconut palm. It is one of those oils we all grew up using either to cook or to moisturise our skin and hair. For me, I remember always having to mix my body lotion with coconut oil as a child just so my skin could shine and look pretty (can you relate?). Either way, I believe it's something everyone is very familiar with. 
What are the benefits of coconut oil?
The major benefit of oils in general is their ability to trap moisture in the skin. This helps to reduce dryness and keeps the skin hydrated for longer periods, thereby preventing dryness.
Coconut oil is also known for its ability to give the skin a smooth feel. Probably because of its moisture retention ability but yeah, overtime it can help to improve skin texture too.
Research has shown that coconut oil contains certain fatty acids (lauric acid, capric acid) that can kill bacteria on skin which may cause acne and other adverse reactions on the skin.
Quality coconut oil has antioxidant properties and can help to protect the skin from oxidative damage caused by stress, pollution and UV rays that would normally accelerate aging. This makes the skin look plump and younger.
Anti-inflammatory properties
Coconut oil has also proven to be useful when dealing with inflammation and redness. It calms and soothes the skin providing relief to injury (burns, rashes, etc). 
Another amazing benefit of coconut oil I recently just found out about is its ability to gently exfoliate the skin. It helps to remove dead skin cells and brighten a dull complexion. You can read about that here.
An of course the star of the day, makeup removal! Coconut oil can also be used as an oil cleanser to properly take down make up without drying out or irritating the skin – including the stubborn waterproof make up. 
Who can use coconut oil?
Considering the numerous benefits of coconut oil, I think it can be used by pretty much anyone except people with oily, acne-prone skin as it can clog the skin pores and worsen breakouts since it is considered to be one of the more comedogenic oils out there. Aside from that, coconut oil is very safe to use.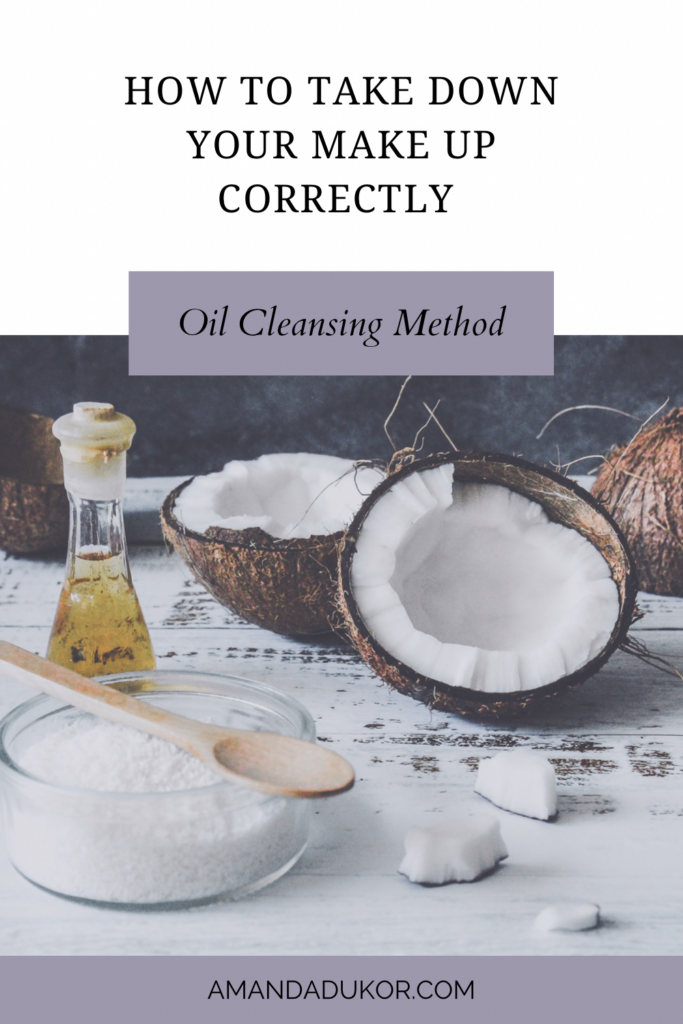 What is oil cleansing?
Oil cleansing is a cleansing method that involves the use of oils to remove dirt, grime and makeup from the skin. It is one of those k beauty hacks that are now widely implemented all over the world and we love them for it!
It is super effective when it comes to makeup removal because oil is able to properly break down the makeup. This allows you to clean all the foundation and mascara and every other product which would normally linger when you wash it off with just water and soap. Also, it is able to balance the skin and keep it moisturized. When you compare this to the traditional make up removers and wipes that are normally drying and harsh on the skin, you'd agree with me that oil cleansing is a win win ting.
The first time I saw a Jackie Aina (a popular beauty influencer) use oil to clean her makeup, I was amazed because it was sooooo easy. I eventually tried it out with shea oil and it has been working perfectly well for me. However, I have read about some of the controversy surrounding the use of coconut oil and whether it is safe for oil cleansing, so I decided to try it too. 
Can I use coconut oil for makeup removal?
YES. It worked perfectly for me. But if you have oily, acne-prone skin, you should go for lightweight oils that will not clog your pores like argan oil,  sunflower oil, grapeseed oil, etc. 
How to use coconut oil for makeup removal; oil cleansing method (step by step)
Step 1: Pour some of the coconut oil into your palm

Step 2: Rub it all over your face including your lips and eyelid (people always forget to target those areas)

Step 3: Massage it into your skin so it properly breaks down the make up

Step 4: After about five minutes, use a damp cloth to wipe off the makeup and oil
By now, most of the makeup would be gone. You can now finish it up with a good cleanser and then continue with the rest of your skincare routine.
If you would like to see a video on how I used coconut oil to take down my make up recently, check here!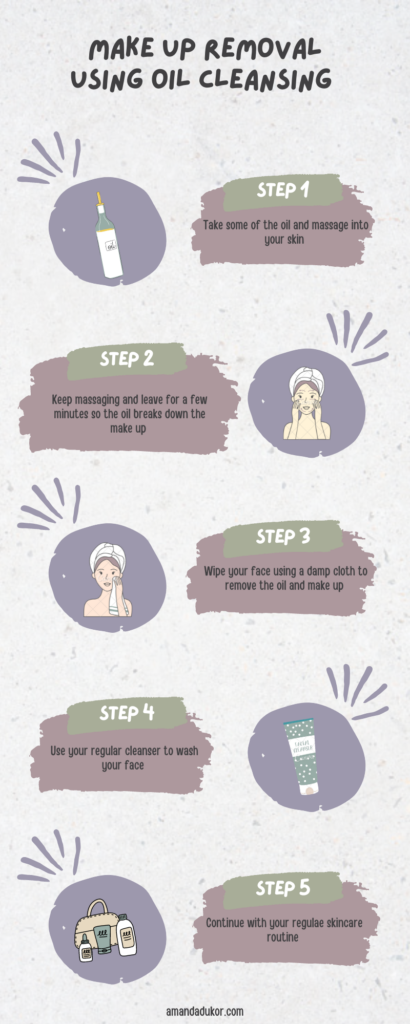 Till next time, x.