Hi bestie! In this post I'll be reviewing The Ordinary Mandelic Acid 10% + HA (where HA means for Hyaluronic Acid). This happens to be the first ever chemical exfoliant I used when I started my skincare journey and I'm excited to share my thoughts. But first let's learn a bit about Mandelic Acid.
What is Mandelic Acid?
Mandelic acid is an Alpha Hydroxy Acid popularly used in skin care as an exfoliating agent. It is derived from bitter almonds and while writing this blog post, I found that its name is actually derived from the German word, 'Mandel' which means almond.
Mandelic acid acts on the skin by accelerating cell turnover and breaking down the tiny bonds that hold skin cells together. This helps to get rid of dead skin cells which the entire point of exfoliation.
Uses/Benefits of Mandelic Acid
Reduces the appearance of wrinkles and fine lines
Mandelic acid stimulates the production of collagen, an important protein that decreases with age. Collagen gives the skin elasticity and firmness which helps to reduce the appearance of fine lines and wrinkles.
Gentle on skin
One of the major reasons my first exfoliating acid was mandelic acid was because of how gentle it is on the skin compared to other acids in its category. It has a large molecule that penetrates the skin slowly making it ideal for sensitive skin.
Fades Hyperpigmentation
Mandelic acid has been shown to have lightening properties for different forms of hyperpigmentation like melasma, age spots and post inflammatory dark spots (from acne, injuries, etc).
Improves skin texture
The exfoliating properties of mandelic acid helps to improve skin texture overtime making it smoother.
Manages acne and clogged pores
Mandelic acid helps to control sebum production and unclog pores leading to fewer acne breakouts. It also has antibacterial properties which can prevent inflammatory acne.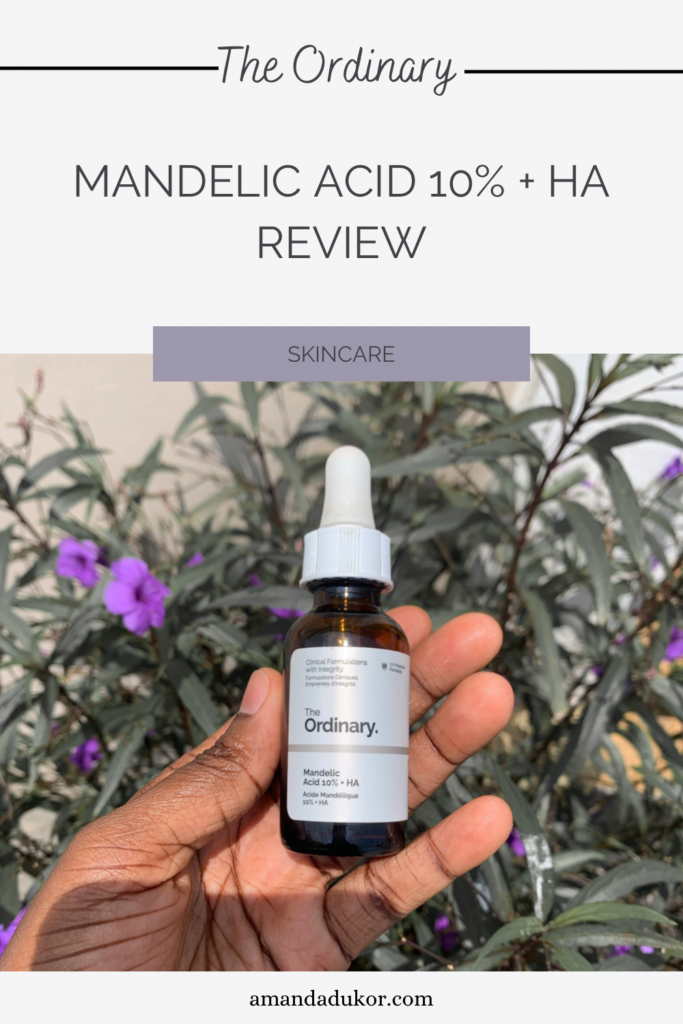 The Ordinary Mandelic Acid 10% + HA Ingredients
Propanediol, Aqua (Water), Mandelic Acid, Glycerin, Dimethyl Isosorbide, Sodium Hyaluronate Crosspolymer, Tasmannia Lanceolata Fruit/Leaf Extract, Pentylene Glycol, Polysorbate 20, Sodium Hydroxide, Ethylhexylglycerin, 1,2-Hexanediol, Caprylyl Glycol.
Claims by the brand
According to the brand, this formulation is said to improve skin clarity, balance uneven skin tone, and correct skin texture in a gentle, yet effective manner.
My Experience and Review
This serum has a sort of oily but lightweight texture that is easily absorbed by the skin.
When I first got this serum, I was very skeptical because I had never used a chemical exfoliant before and I didn't want anything that would irritate my skin. However, this serum didn't even cause a tingle in my skin which I loved.
After using this serum for some months, I noticed an improvement in the overall texture of my skin which made me happy. I'm not sure it did much for my hyperpigmentation but I know people it has helped in that area as well.
For a video review check here!
How I used The Ordinary Mandelic Acid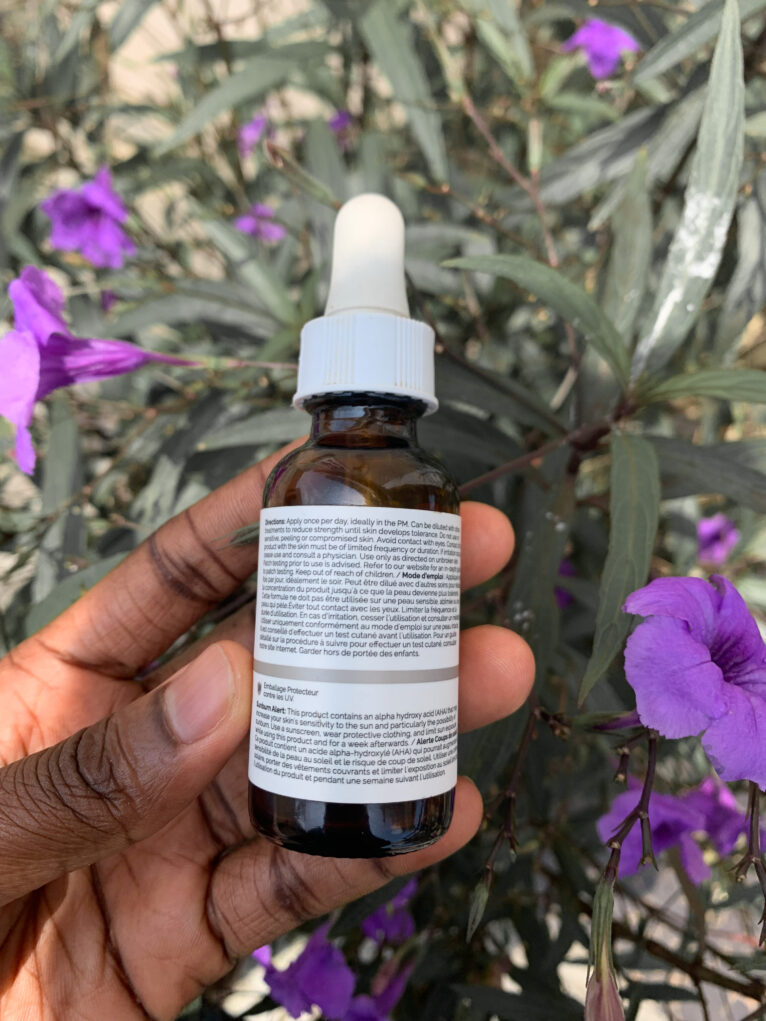 The Ordinary Mandelic Acid serum is recommended to be used only at night which is exactly what I did twice a week. I applied it after using my cleanser and toner and before using my moisturizer.
Since this product is an Alpha Hydroxy Acid (AHA), I made sure to wear sunscreen and limit my exposure to the sun. This is because AHAs increase the skin's sensitivity to sunlight which could lead to sunburn.
---
Other questions you may have!
Is The Ordinary Mandelic acid good for my skin type?
Like I mentioned earlier, mandelic acid is gentle on the skin. It is less irritating and has milder side effects and so it is great for all skin types.
What are possible side effects of the ordinary mandelic acid?
Although mandelic acid is gentle, like all other acids, using it too often can damage your skin barrier. Try to keep your usage between 1-3 times weekly depending on how tolerant your skin is.
Where can I purchase?
I purchased mine from Jumia (buy from only retailers you're sure of here💀) but you can also check other beauty stores within your vicinity.
---
Share in the comments the your current exfoliant and rate it out of 10!