Some months back, I wrote about sunscreens and how important they are for our skin. I also shared the sunscreen I was using at the time but from the feedback I got, I realized that some people genuinely could not afford it. More recently, I came across a new product- Altruist. Well, not so new because I already knew about the brand and the product. What I didn't know was how affordable it was! So I decided to do an Altruist Sunscreen, SPF 50 review!
I was a bit scared and skeptical about getting it initially because I meannnnnnn. But still, I felt the need to try it out and share my experience because why not?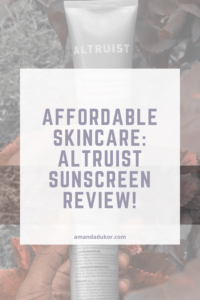 Packaging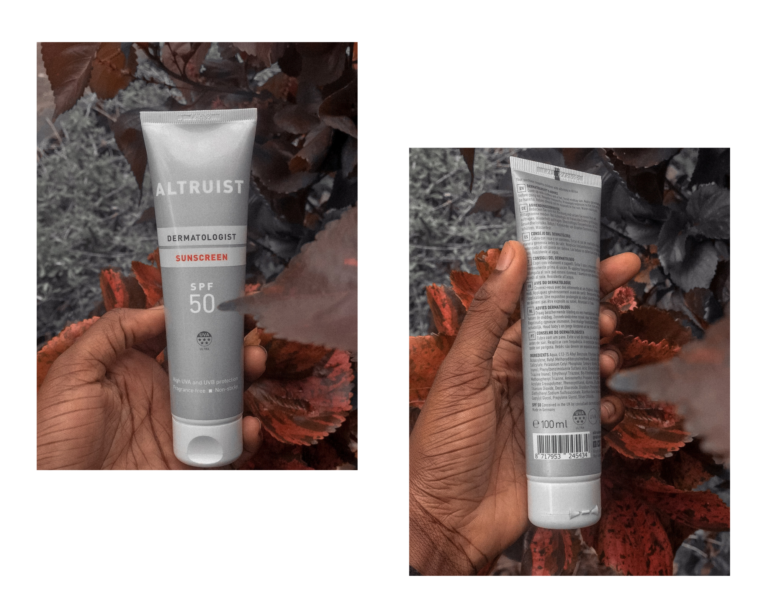 Altruist sunscreens come in different sizes, packaging and SPFs but what I got was the 100mls one with SPF 50. It came in a grey and white plastic tube without any extra packaging which I didn't expect. But I guess that's good for the environment so yayy. I also noticed from the tube(although you can't see it) that the sunscreen was broad spectrum; meaning that it offers protection from both UVA and UVB rays.
My experience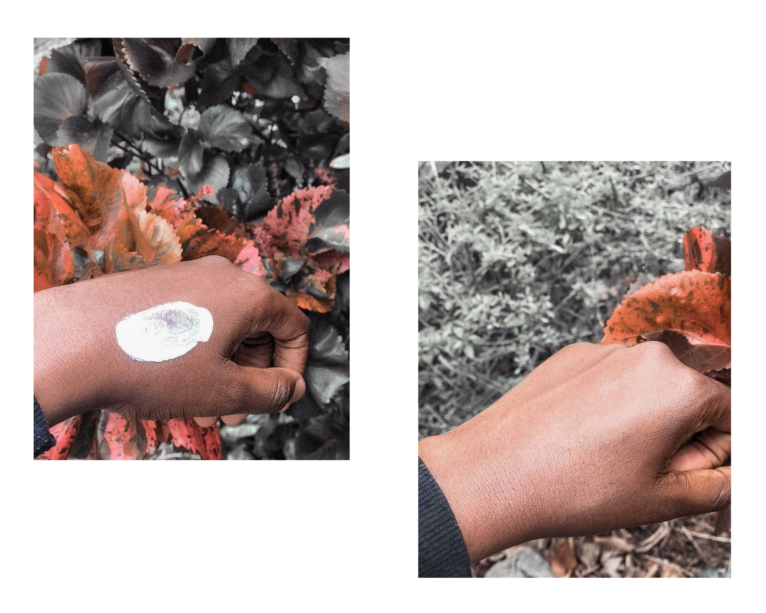 The first thing I looked out for when I used this sunscreen was fragrance. Personally, I don't like to use products with too much fragrance on my face to prevent allergies or reactions so I was happy when I discovered that it was fragrance free.
The next thing that caught my attention was how whitish and creamy it was and I was almost a hundred percent sure that it would leave a white cast on my skin (which would have been a disaster given my heavily melanated skin). So here's the thing, when you put it on initially, your face WILL look whitish, but once you rub it in and your skin absorbs it, it blends in properly.
Another interesting thing I found out about the Altruist sunscreen brand is that they give proceeds from every purchase to support children living with albinism in Africa which I think is super thoughtful because these kids are more sensitive to sunlight and more susceptible to damage from UV rays. You can read more about it here.
Now to my pros and cons!
Pros
It doesn't have any fragrance so it is good for sensitive skin
It doesn't leave white casts
It is super affordable for its size
It actually does the job!
Cons
If you have oily skin or are not a fan of "shine" on your skin, then you might not like this. You could opt for a moisturizer that is not so oily to balance things out or just go for a different sunscreen entirely.
I got this sunscreen for about ₦3500 (about $9). It could be cheaper and it could be more expensive depending on where you purchase it. If you'd like to know where I got mine, you can send me an email or a DM on Instagram. No free promos *wink wink*
I hope this Altruist Sunscreen, SPF 50 review was helpful!